Best Patio Umbrella with Revolutionary Umbrella Patio Base
Finally A Patio Umbrella with a Wind Resistant Patio Base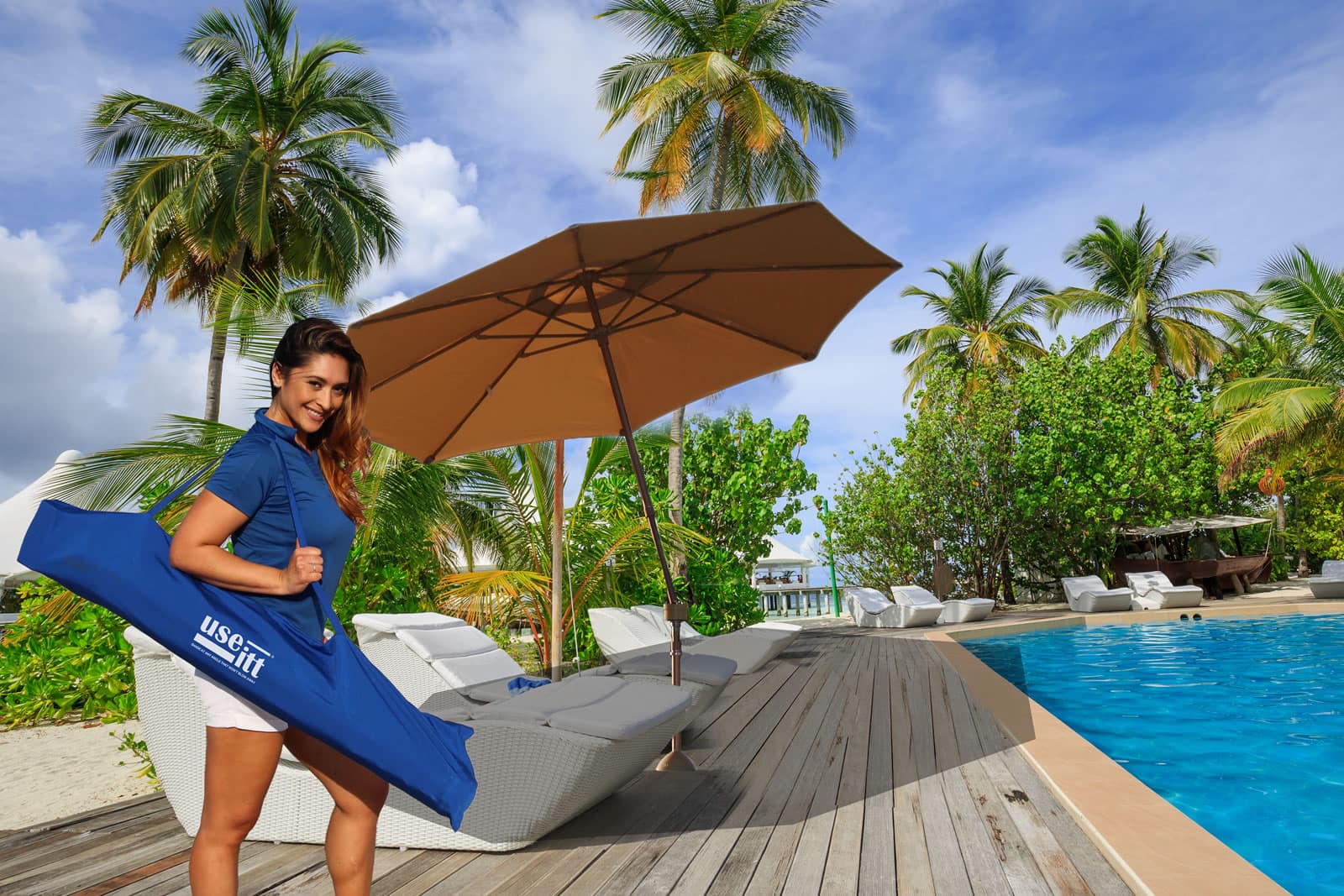 Patio umbrella with wind resistant patio base
When searching for the best patio umbrella, there are a few things to look for. First, consider the size of the umbrella. You'll want an umbrella that is large enough to provide shade for your patio furniture. USEITT Umbrella's are large 9′ foot patio umbrella's with our revolutionary DOME BASE.
Second, think about the material of the umbrella. Umbrellas made from durable materials like aluminum and fiberglass will last longer than those made from less durable materials.
Finally, consider the style of the umbrella. USEITT Patio Umbrellas come in a modern subtle gold bronze color, that fits your patio's décor. And to top it all off you can take your USEITT SHADE with you using the same patio umbrella with our beach umbrella accessory kit! You're now able to use your favorite patio umbrella as one universal umbrella.
Say goodbye to old clumsy umbrella bases & say HELLO to USEITT's revolutionary patented patio base.
The USEITT patio umbrella has been designed with a patented base to withstand any wind you are willing to bear and not blow over! This is what separates USEITT patio umbrella's from all the others,
Installation takes only minutes and you will save time and money for the foreseeable future with USEITT Patio Umbrella with stand that won't blow away and it will provide shade at any angle all day long. We have a universal adapter that allows for all patio furniture with a 1.5″ hole to work with our base. This means that if you need a patio umbrella for your home, office lounge or beach, we have you covered!
The USEITT patio umbrella is the best patio umbrella because it is large, made from durable materials, and comes in a modern subtle gold bronze color. The USEITT patio umbrella with its patented umbrella base creates a wind resistant unparalleled with anything on the patio umbrella market.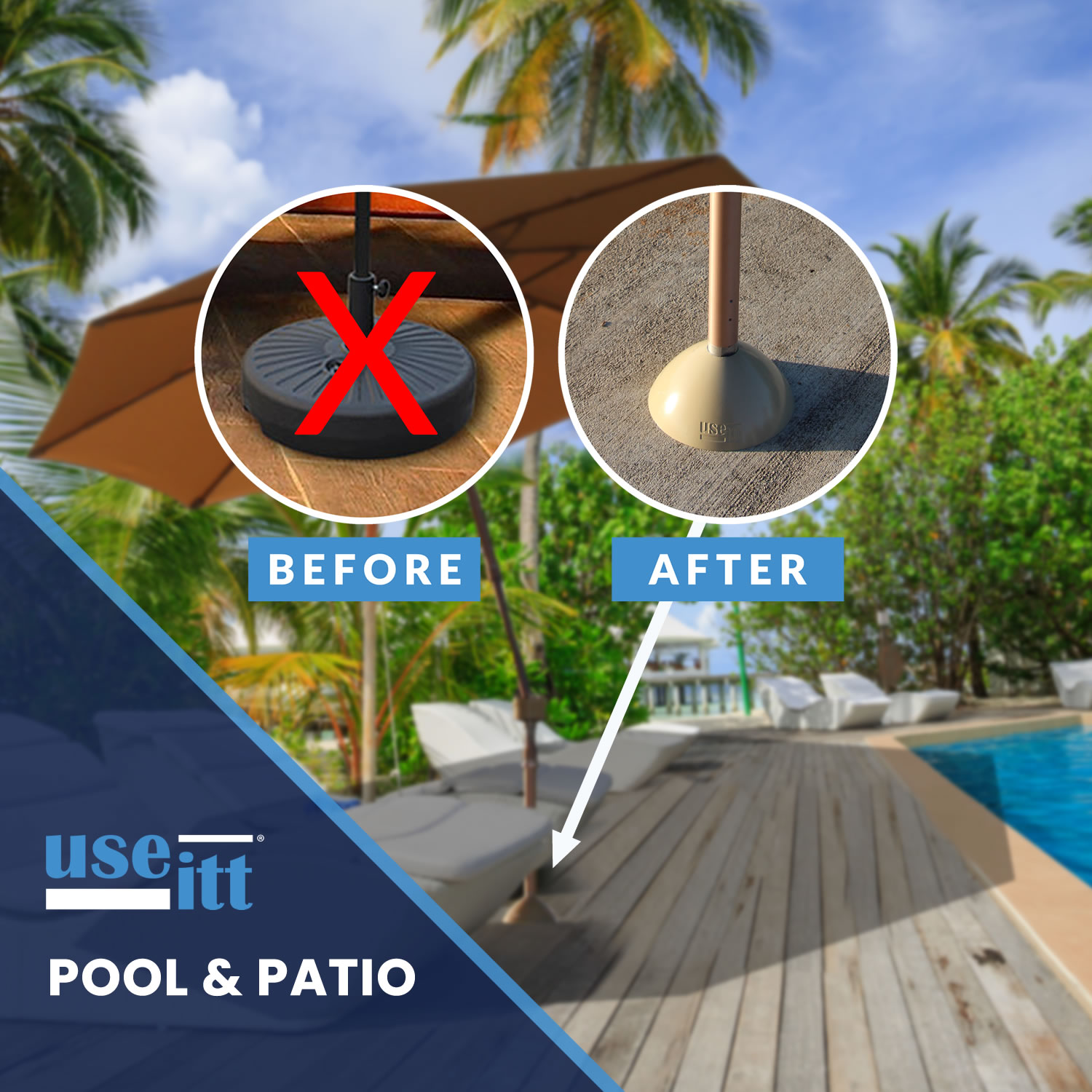 Expand your dome base umbrella system for beach, ballfield and more with our USEITT Umbrella Accessory Kit Addon.
Patented revolutionary patio base and ball joint
To top it all off, our 5 year guarantee covers the umbrella and includes our "no fade" umbrella canopy fabric. USEITT's Patio Umbrella is the last patio umbrella you'll ever need.
Order your USEITT patio umbrella today!
Compared to other large brand named umbrellas of this size, our patio umbrellas are:
More wind resistant with our patented bases
Have a modern subtle gold bronze color
Come with a 5 year guarantee
Includes an adapter to fit all patio table furniture
Use the same umbrella for your patio, office lounge or beach needs!
Order your USEITT patio umbrella today and get free shipping on us, plus our *current special just in time for the holidays.
Patio Umbrella Base Umbrella – What's in the Box
How USEITT Patio Umbrellas Work
Tags: Patio Umbrella, Patio Umbrella with Stand, Best Reviewed Patio Umbrella, Patio Umbrellas, Offset Patio Umbrella With Base, Best Patio Umbrella For Wind, Best Patio Umbrellas, Patio Umbrellas Near Me
Patented Patio Umbrella Base for SHADE all day!
The USEITT Universal Umbrella System is specifically designed and engineered to handle very windy days.
Umbrella For Shade All Day
Patio Table Umbrella
Concrete or Wood Deck Umbrella
Beach Umbrella
Picnic Table Umbrella
Bleacher Umbrella
Tailgating Umbrella
And many more